AI4Schools – AI Education for High School Students
In a world where technology is profoundly impacting the way we live, work, and communicate, preparing students for this transformation has become an imperative. As the fields of Artificial Intelligence (AI) and Machine Learning (ML) continue to expand, integrating knowledge transfer of these cutting-edge technologies into education remains of immense importance. A pioneering project that has made this concern its mission is AI4Schools. It aims to empower students with the knowledge and skills they need to adapt to the AI-driven world of today and tomorrow. However, the target group of the project and its offerings are not only the young people themselves, but also their teachers. In the AI4Teachers module, teachers (regardless of their subject area) are trained to carry the knowledge into schools in the long term. The AI4Students module, on the other hand, is aimed directly at the students.
In this blog post, we introduce the project and its goals and explain why it is so important to bring AI into schools.
The Imperative and Vision of AI4Schools
You can't do without it: Whoever wants to educate responsible citizens in our digital-driven society needs computer science as a subject. And isn't it the task of schools to do just that – to prepare people in a comprehensive way for life?   
This is how the Gesellschaft für Informatik e.V. (GI) puts it in a nutshell in its current Computer Science Monitor (2022/2023) (only in german). However, only five German states, including North Rhine-Westphalia (along with Mecklenburg-Western Pomerania, Saxony, Baden-Württemberg, and Bavaria), are currently offering mandatory computer science education for all students. In six states, computer science is only offered as an elective, and in Bremen and Hesse, there is no computer science education at all in lower secondary school (read here why even earlier support in STEM subjects is of immense importance).
Although the number of computer science education courses offered in schools nationwide is increasing, the shortage of qualified teachers continues to grow at the same time. Additional offerings for computer science education are and will therefore remain essential. But providing basic computer science education alone is not enough.
Why start AI education already in high school?
We are currently seeing AI revolutionize healthcare, finance, transportation and many other areas. Therefore, we believe it is crucial to promote not only basic computer science knowledge, but AI skills in particular among the younger generation. By providing this knowledge, high school students will be empowered to understand the impact of AI and help shape its ethical and responsible implementation.
Five aspects clearly highlight the importance of bringing AI education into schools. They range from benefits for individual students to triggering necessary future transformation processes on a societal level:
Future-ready skills and competencies: Introducing AI knowledge at school prepares students for careers in a world where AI plays an increasingly important role. The relevant skills and competencies are becoming ever more in demand in a variety of occupational fields. If the basis for an AI education is laid already in school, students will enter professional life with valuable competencies and sound knowledge.
Democratization of technology: Integrating AI into educational curricula promotes equal participation by making AI knowledge accessible to all students – regardless of their background. This democratization of technology helps bridge the digital gap and promote a more equitable society.  
Fostering innovation: An early exploration of AI concepts sparks curiosity, encourages innovative thinking, and promotes an understanding of (mathematical) complexities. Students are encouraged to explore and experiment with AI applications, which helps foster and develop the next generation of thought leaders.  
Ethical considerations: Addressing the ethical dimensions of AI is essential. Providing AI education in schools can stimulate discussions about the impact of AI technologies on privacy, security, bias, and responsible use, thus tying in ethical considerations from the beginning. It also provides students with the necessary knowledge of the technology to better assess the opportunities and risks of applications.
Improving problem-solving skills: AI and ML are powerful problem-solving tools. By exposing students to AI applications, we empower them to tackle real-world challenges with analytical and data-driven methods, making it easier to solve even complex issues.
Strengthening AI competence in schools – The AI4Schools workshops train both teachers and students 
The AI4Schools concept is a response to this challenge. It is a forward-looking educational project that aims to introduce AI and ML concepts and related practical skills to high school students (aged 15 to 19 years) as well as their teachers. However, the vision of the project goes beyond simply teaching the technical aspects of AI; it aims to foster critical thinking, creativity, problem-solving skills, and ethical reflection on the impact of AI on society.
The AI4Schools content is taught in a two-day training course, each for high school students and teachers, by AI experts from the Fraunhofer Alliance Big Data AI and the Roberta® initiative of Fraunhofer IAIS. The modules consist of workshops with practical relevance and discussions in which the technical background of intelligent systems is explained. In addition, a key component is the Open Roberta Lab.
This user-friendly and playful programming environment gives students and teachers easy access to the world of artificial neural networks. With the help of the graphical programming language "NEPO", programs can be created even without prior programming knowledge. The Open Roberta Lab offers a variety of learning materials, tutorials and sample projects to continuously expand knowledge and skills in AI programming – during the workshops and afterwards.
The AI4Students module trains students in the use of AI and shows AI-related career perspectives
The module addresses only high school students. In the Open Roberta Lab (open source), participants have the opportunity to gain their first programming experience with artificial neural networks. Furthermore, "hands-on" AI models will be programmed with Python.
Ethical aspects will be debated in various discussions, such as the topic of trustworthy Artificial Intelligence.   
Finally, insights into AI-related careers are provided, giving the students an opportunity to find out what prospects may open up for them with their newly acquired knowledge and competencies. Experienced Data Scientists will be on hand to answer questions and give insights into their day-to-day work.
The AI4Teacher module trains teachers in the use of AI and its teaching
On the one hand, the AI4Teacher module provides teachers with basic knowledge in the areas of Artificial Intelligence, Machine Learning and various topics, such as " Trustworthy AI". On the other hand, hands-on practical content, such as programming with Python, is taught. In addition to the necessary expertise, teachers also receive the appropriate tools for didactically preparing AI education for students.
With the AI4Teacher module, the project trains teachers to act as disseminators of AI knowledge in schools and to integrate it into their lessons in the long term.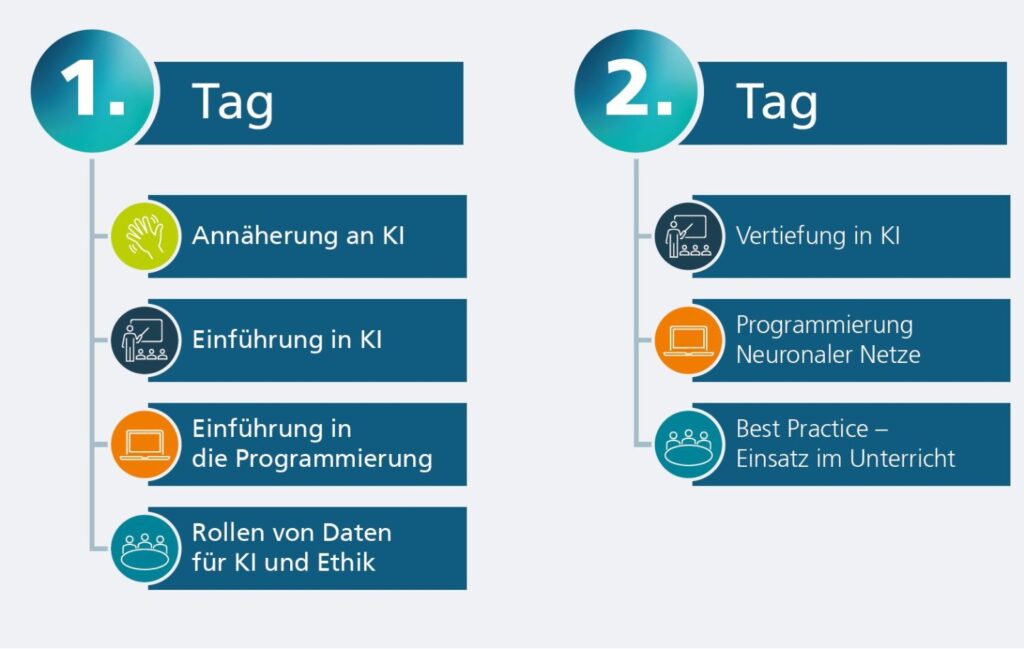 Empowering tomorrow's thought leaders today
The AI4Schools project creates the conditions for a sound and adequate AI education that already starts in high school. Students will be equipped with the necessary knowledge and tools to master the changes in our increasingly digitized world before they enter their professional lives. By introducing AI and ML concepts early and handling them correctly, students are prepared for future careers, encouraged to embrace innovation, and stimulated to reflect on ethical issues regarding this technology. Empowering the next generation with AI skills sets the basis for a promising future where technology serves as an enabler for a better society.
Good to know: How the collaboration with schools works
The AI4Schools project works closely with schools to promote AI education. Data Scientists from the project team conduct on-site workshops for the AI4Students and AI4Teachers modules. Interested schools can easily express their interest by filling out a contact form on the website or directly by email. The project is based in North Rhine-Westphalia, but is available to schools throughout Germany.
Further information